NEXT MEETING:
Monday 1 October at 7:30 pm. Upper Riccarton Library meeting room, 71 Main South Road, Riccarton. Speaker: Hermann Frank.Topic: Hermann Frank has been tracking lizards and photographing the South Canterbury limestone landscape for decades. He will illustrate his talk about limestone habitats of flora and fauna with his stunning landscape photos. Some of the plant species are restricted to limestone and are now rare, including five "Threatened-Nationally Critical" plant species, which are endemic to South Canterbury limestone.

NEXT FIELD TRIP:
Saturday 6 October. Tiromoana Bush, Waipara, North Canterbury. We will botanise Tiromoana Bush, a 407 ha QEII covenant associated with the Kate Valley landfill. Bot Soc last visited this area in 2005, so this will provide an opportunity to gauge how well the ambitious restoration programme is progressing.
Where to meet: Meet for carpooling at The Peg Tavern (Belfast Hotel) carpark (895 Main North Road, on the northern outskirts of Belfast) at 9:00 am, to leave no later than 9.05 am. Drive north on SH1, and just past the Waipara River (9 km north of Amberley) turn right into Mount Cass Road, follow this for a further 9 km until reaching the Tiromoana Bush carpark (where we will meet the North Canterbury contingent). From there we will walk towards the coast.
Suitability: Moderate. We intend to veer off the public walking tracks, so sturdy footwear is essential.
Cost: $11 petrol reimbursement to drivers (10c/km paid to drivers).
What to bring: Lunch, drink, warm clothes, hat, raincoat, sturdy footwear, petrol money. Be prepared for the usual range of weather at this time of year.
Trip leader/s: Miles Giller/Fay Farrant. Please contact Fay by phone on (03) 337-2622 or 027 332 7482, or email crookie20@gmail.com, if you intend to come along so that we can let you know if the trip is cancelled.

UPCOMING EVENTS:
MEETING. Monday 5 November. Speaker: Dr Jamie Wood (Manaaki Whenua Researcher, Ecosystems and Global Change). Topic: NZ birds and the fungi they eat.
SPRING CAMP. Friday 16 November – Sunday 18 November. Conway River, North Canterbury. This year's spring camp will be based around the Conway River about 7km west (inland) from Ferniehurst, North Canterbury. We intend to look at the 89 ha Ngaroma Scenic Reserve (mixed podocarps, beech and kanuka), the 14 ha Waingaro QEII covenant (mixed podocarps and beech), a 25 ha limestone outcrop (who knows?), and (for those who missed it in 2015) the 20 ha remnant of mature podocarp forest on Ferniehurst (near-primary podocarp forest on a river terrace). Accommodation (booked for the nights of Thursday 15th, Friday 16th and Saturday 17th Nov) will be based at the Waingaro Farm cottage. All our botanical venues involve old-growth bush, growing on fertile soils under the abundant Hundalee Hills rainfall. Further details will be included in newsletters to follow. If you wish to attend, please contact Miles or Gillian Giller on (03) 313-5315.
MEETING: Monday 3 December. Speaker: Rowan Hindmarsh-Walls (Department of Conservation, Hokitika). Topic: Endemism in the Fiordland flora.

FIELD TRIP: Saturday 8 December. Waipara Gorge, North Canterbury. A return trip to continue our exploration of the Department of Conservation reserves in the Waipara Gorge.
SUMMER CAMP: Saturday 12 to Saturday 19 January 2019. Murchison District.
Summer Camp for 2019 is to be based at Riverside Camp Ground in Murchison. During this time we will be visiting a variety of valleys, rivers and mountain tops that surround the Murchison Plains. Accommodation: The camp has a range of accommodation from motel units to tent sites. There are four basic cabins initially booked two with a double bed and bunks, two with single beds/bunks ($30 per person/night). Trip Leader: Paula Greer. If you would like to join us please contact Paula Greer on 021 2336794 or paulagreer@rocketmail.com. If you would prefer to book your own accommodation, please do so but please let Paula know so we can make arrangements for meeting up.
MEETING: Monday 4 February. Speaker: Dr David Glenny (Researcher – Systematics, Manaaki Whenua/Landcare Research, Lincoln). Topic: The willow flora of New Zealand.
MEETING: Monday 4 March. Speaker: Dr Pieter Pelser (Lecturer, University of Canterbury). Topic: New research on herbaceous Brachyglottis leads to one species.

ABOUT CANTERBURY BOTANICAL SOCIETY MEETINGS & FIELD TRIPS
The Society holds monthly evening meetings, usually on the first Monday of each month. Meetings start at 7.30 pm. We organise a speaker and follow the meeting with an informal supper and chat.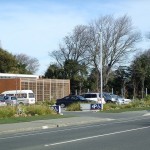 Evening meetings are held in a community meeting room at the Upper Riccarton Library, 71 Main South Road, Upper Riccarton. The meeting room is just through the main library doors (on your left). Entry to the library closes at 8 pm but you can exit after this time by pushing the green button next to the door. Parking is available in front of the library. http://christchurchcitylibraries.com/UpperRiccarton/
Information for speakers
The meeting room has a data projector (and cable) but you need to bring your own laptop or advise the meeting organiser that they need to bring one. Please check that your laptop is able to connect to an external projector.
Field trips are usually held on the Saturday following the evening meeting. Trips in the winter months are to places closer to Christchurch and in the warmer months we take advantage of the longer daylight hours to venture further afield.
In January we have a week-long summer camp and visit places which are too far to access from Christchurch for a day trip. We book affordable accommodation and make daily excursions from this point.
In spring we often have a long weekend camp over Show Weekend in November.
Occasionally we hold workshops on specific topics.
The AGM is held on the first Saturday after Queen's Birthday weekend. After the AGM we have a speaker, followed by a shared finger food lunch.