NEXT MEETING:
Monday 3 September at 7:30 pm. Upper Riccarton Library meeting room, 71 Main South Road, Riccarton. Speaker: Yuriy Malakhov (MSc student and BOTSOC student grant recipient). Topic: Benthic microalgae of the Avon-Heathcote estuary.

NEXT FIELD TRIP:
Saturday 8 September. The Chaffey kowhai garden, Peter Joyce's sculpture garden, and the Rocklands forest restoration project. Spring is the time of year to enjoy the kowhai arboretum planted by Jan Chaffey in her steep hillside garden in Rocklands, on the hill above Tai Tapu. In contrast, Peter Joyce has blended restoration of the valley floodplain with plantings to set off sculptures. Jan and Peter Joyce have lead a community restoration of the gully and stream.
Where to meet: Meet Meet at 9 am to carpool at the Halswell Bowling Green carpark, 301 Halswell Road. For those from south of Christchurch please meet at the corner of Cossars Road and the Rockland drive (200 m before Gerkins Road).
Suitability: Easy. The grassy lawns and rough formed tracks are suitable for everyone, if they take time.
Cost: $4 petrol reimbursement to drivers (10c/km paid to drivers).
What to bring: Lunch, drink, warm clothes, hat, raincoat, sturdy footwear, petrol money. Be prepared for the usual range of weather at this time of year.
Trip leader/s: Alice Shanks. Please contact Alice by email on alice@caverock.net.nz or phone 027 3661246 if you intend to come along, so she can let you know if the trip is cancelled.

UPCOMING EVENTS:
MEETING. Monday 1 October. Speaker: Hermann Frank. Topic: The lizard fauna of South Canterbury limestone and the vegetation they inhabit.
FIELD TRIP. Saturday 6 October. Tiromoana Bush, Kate Valley.
MEETING. Monday 5 November. Speaker: Dr Jamie Wood (Manaaki Whenua Researcher, Ecosystems and Global Change). Topic: NZ birds and the fungi they eat.
SPRING CAMP. Friday 16 November – Sunday 18 November. Conway River, North Canterbury. This year's spring camp will be based around the Conway River about 7km west (inland) from Ferniehurst, North Canterbury. We intend to look at the 89 ha Ngaroma Scenic Reserve (mixed podocarps, beech, & kanuka), the 14 ha Waingaro QEII covenant (mixed podocarps & beech), a 25 ha limestone outcrop (who knows?), and (for those who missed it in 2015) the 20 ha remnant of mature podocarp forest on Ferniehurst (near-primary podocarp forest on a river terrace). Accommodation (booked for the nights of Thursday 15th, Friday 16th & Saturday 17th Nov) will be based at the Waingaro Farm cottage. All our botanical venues involve old-growth bush, growing on fertile soils under the abundant Hundalee Hills rainfall. Further details will be included in newsletters to follow. If you wish to attend, please contact Miles or Gillian Giller on (03) 313-5315.
ABOUT CANTERBURY BOTANICAL SOCIETY MEETINGS & FIELD TRIPS
The Society holds monthly evening meetings, usually on the first Monday of each month. Meetings start at 7.30 pm. We organise a speaker and follow the meeting with an informal supper and chat.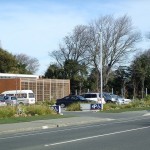 Evening meetings are held in a community meeting room at the Upper Riccarton Library, 71 Main South Road, Upper Riccarton. The meeting room is just through the main library doors (on your left). Entry to the library closes at 8 pm but you can exit after this time by pushing the green button next to the door. Parking is available in front of the library. http://christchurchcitylibraries.com/UpperRiccarton/
Information for speakers
The meeting room has a data projector (and cable) but you need to bring your own laptop or advise the meeting organiser that they need to bring one. Please check that your laptop is able to connect to an external projector.
Field trips are usually held on the Saturday following the evening meeting. Trips in the winter months are to places closer to Christchurch and in the warmer months we take advantage of the longer daylight hours to venture further afield.
In January we have a week-long summer camp and visit places which are too far to access from Christchurch for a day trip. We book affordable accommodation and make daily excursions from this point.
In spring we often have a long weekend camp over Show Weekend in November.
Occasionally we hold workshops on specific topics.
The AGM is held on the first Saturday after Queen's Birthday weekend. After the AGM we have a speaker, followed by a shared finger food lunch.