NEXT MEETING:
Monday 4 March at 7:30 pm at Upper Riccarton Library meeting room, 71 Main South Road, Riccarton. Speaker: Dr Pieter Pelser (University of Canterbury). Topic: New research on herbaceous Brachyglottis leads to one species.
NEXT FIELD TRIP:
Saturday 16 February. Lake Coleridge tarn turf vegetation. Visit one of the special vegetation types of Canterbury. This tarn on private farmland is dry at present so we will be able to view the minute: plants that bloom and fruit rapidly after the water recedes. Reference: Johnson, Peter and Geoff Rogers. 2003. Ephemeral wetlands and their turfs in New Zealand. Department of Conservation Science for Conservation 230. https://www.doc.govt.nz/globalassets/documents/science-and-technical/sfc230.pdf.
Where to meet: Meet at 8:15 am at the Yaldhurst hotel carpark just past the Pound Road round-about, on the south side of the road, Old West Coast Road.
Suitability: Rough, uneven paddocks with long grass. Wet and muddy around the lake edge.
Cost: suggested petrol reimbursement to drivers $20 (10c/km paid to drivers).
What to bring: Lunch, drink, warm clothes, hat, raincoat, petrol money. Wear gumboots or shoes that you don't mind getting wet. A hand lens and the Wetland Plants book by Peter Johnson would be useful.
Trip leader/s: Alice Shanks. Please contact Alice at alice@caverock.net.nz, or phone 027-366-1246 if you intend to come along so she can let you know if the trip is cancelled.

UPCOMING EVENTS:
MEETING: Monday 1 April. Speaker: TBA. Topic: TBA.
FIELD TRIP: Saturday 6 April. TBA
MEETING: Monday 6 May. Speaker: TBA. Topic: TBA.
AGM: Monday 3 June. Speaker: TBA. Topic: TBA.
ABOUT CANTERBURY BOTANICAL SOCIETY MEETINGS & FIELD TRIPS
The Society holds monthly evening meetings, usually on the first Monday of each month. Meetings start at 7.30 pm. We organise a speaker and follow the meeting with an informal supper and chat.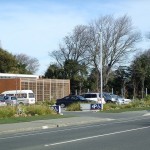 Evening meetings are held in a community meeting room at the Upper Riccarton Library, 71 Main South Road, Upper Riccarton. The meeting room is just through the main library doors (on your left). Entry to the library closes at 8 pm but you can exit after this time by pushing the green button next to the door. Parking is available in front of the library. http://christchurchcitylibraries.com/UpperRiccarton/
Information for speakers
The meeting room has a data projector (and cable) but you need to bring your own laptop or advise the meeting organiser that they need to bring one. Please check that your laptop is able to connect to an external projector.
Field trips are usually held on the Saturday following the evening meeting. Trips in the winter months are to places closer to Christchurch and in the warmer months we take advantage of the longer daylight hours to venture further afield.
In January we have a week-long summer camp and visit places which are too far to access from Christchurch for a day trip. We book affordable accommodation and make daily excursions from this point.
In spring we often have a long weekend camp over Show Weekend in November.
Occasionally we hold workshops on specific topics.
The AGM is held on the first Saturday after Queen's Birthday weekend. After the AGM we have a speaker, followed by a shared finger food lunch.