NEXT MEETING:
Monday 4 September 7:30 pm. Upper Riccarton Library meeting room. 71 Main South Road, Upper Riccarton. Speaker: Matt McGlone (Research Associate, Landcare Research, Lincoln). Topic: Where did the plants of New Zealand come from? Summary: Since the first European scientists arrived in New Zealand there has been debate as to how our highly endemic flora came to be. Many have argued that the flora is for the most part a legacy of the split from the megacontinent Gondwana. Others favour most lineages arriving long after open ocean formed between New Zealand and other landmasses through some type of trans-oceanic transport, be that floating, flying or hitchhiking. Surprisingly, the question has never been conclusively resolved and is still hotly debated. Advances in DNA studies, the extraordinary recent plant fossil finds in the volcanic craters of Otago, and the discovery of fossils closely related to New Zealand endemics in Australia and South America, have transformed our understanding. Each lineage of plants has its own distinctive New Zealand history, and there have been a number of quite separate pathways by which they have found their way here. In this talk I will give an overview of current theories as to the origin of the New Zealand flora, bearing in mind that this is a story that is far from settled.

NEXT FIELD TRIP:
Saturday 9 September. Rakaia Gorge.
We have been invited to botanise private land on the Rakaia Gorge Island and the south bank of the river upstream of the bridge. We hope to relocate rare plants that have been reported from the area in the past and make an inventory of the current vegetation.
Meeting time and place: Meet at the Yaldhurst Hotel carpark at 8.30 am to carpool, 50m after the Main West Coast Road-Pound Road roundabout. Alternatively you can meet the group in the Rakaia Gorge campground at 10 am.
Suitability: Come prepared to walk and scramble through steep riverside forest, scrubby banks and riverbed.
Cost: $10 petrol reimbursement to drivers (10c/km paid to drivers).
What to bring: Lunch, thermos/drink, stout footwear, raincoat, warm clothes, sunhat.
Trip leader: Alice Shanks. Please email alice@caverock.net.nz or ring 027 366 1246 if you plan to come along so you can be notified if the trip is cancelled.
UPCOMING EVENTS:
Monday 2 October. Speaker: Jason Butt (Biodiversity Officer, Waimakariri Water Zone, ECan). Topic: Jason will lead a discussion on "Contracts and volunteers: unexpected issues for the restoration of indigenous vegetation."
Monday 6 November. Speaker: Dr Debra Wotton (Moa's Ark Research). Topic: "Why is Hebe armstrongii rare?"
Monday 4 December. Speaker: Dr Jessie Prebble (Plant Systematist, Landcare Research). Topic: Why are forget-me-nots in trouble in New Zealand and comments on harebells on Banks Peninsula.
ABOUT CANTERBURY BOTANICAL SOCIETY MEETINGS & FIELD TRIPS
The Society holds monthly evening meetings, usually on the first Monday of each month. Meetings start at 7.30 pm. We organise a speaker and follow the meeting with an informal supper and chat.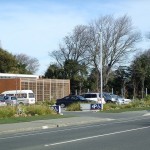 Evening meetings are held in a community meeting room at the Upper Riccarton Library, 71 Main South Road, Upper Riccarton. The meeting room is just through the main library doors (on your left). Entry to the library closes at 8 pm but you can exit after this time by pushing the green button next to the door. Parking is available in front of the library. http://christchurchcitylibraries.com/UpperRiccarton/
Information for speakers
The meeting room has a data projector (and cable) but you need to bring your own laptop or advise the meeting organiser that they need to bring one.
Field trips are usually held on the Saturday following the evening meeting. Trips in the winter months are to places closer to Christchurch and in the warmer months we take advantage of the longer daylight hours to venture further afield.
In January we have a week-long summer camp and visit places which are too far to access from Christchurch for a day trip. We book affordable accommodation and make daily excursions from this point.
In spring we often have a long weekend camp over Show Weekend in November.
Occasionally we hold workshops on specific topics.
The AGM is held on the first Saturday after Queen's Birthday weekend. After the AGM we have a speaker, followed by a shared finger food lunch.