NEXT MEETING:
Monday 6 May at 7:30 pm at Upper Riccarton Library meeting room, 71 Main South Road, Riccarton. Speaker: Lily Brailsford (student, University of Canterbury) Topic: Evidence for genetic decline within Afromontane forest fragments on the Mambilla Plateau, Nigeria. Globally, habitat destruction is recognised as one of the most significant causes of losses in species and habitat diversity. However, there is a third type of biodiversity that is often overlooked – genetic diversity. Dramatic habitat loss throughout Nigeria has drastically reduced the area of indigenous forests and left many forest fragments isolated. As a result, it is predicted that many species within these forest will suffer from declines in genetic diversity due to inbreeding and genetic drift. This can significantly affect the resilience of forest communities and make them particularly vulnerable to environmental changes. I will present the findings of my Masters research, taking a first look at how habitat fragmentation has affected the genetic diversity of tree species within multiple forest fragments across the Mambilla Plateau, Nigeria. "Universal" genetic markers are used to determine their potential as a rapid, low-cost genetic technique for species and habitats that have not previously been investigated.

NEXT FIELD TRIPS:
Saturday 11 May. The Tors farm, Port Hills. We will be hosted by John and Sue Stevens, the owners of The Tors farm. We'll explore a variety of typical Port Hills habitats, including rock outcrops and regenerating native forest and shrubland, while enjoying the views over the harbour, city and plains.
Where to meet: Meet at 9 am meet at Malcolm Avenue, on the corner opposite the Z petrol station, 23 Colombo Street, Thorrington.
Suitability: We will drive along the Summit Road to The Tors farm top boundary. From here we will walk along a formed track to the rock outcrops and bush-filled gully. After lunch the walk will continue through steep, rough farmland so there will be an option to walk back along the Summit Road to the Rapaki carpark.
Cost: suggested petrol reimbursement to drivers $4 (10c/km paid to drivers).
What to bring: Lunch, drink, warm clothes, hat, raincoat, sturdy footwear, petrol money.
Trip leader/s: Alice Shanks. Please contact Alice at alice@caverock.net.nz, or phone 027-366-1246 if you intend to come along so she can let you know if the trip is cancelled.

UPCOMING EVENTS:
NZ Alpine Club MEETING: Monday 6 June. Speaker: Alpine Club invitation to hear Dr Heidi Meudt (Te Papa). 8pm, 67 Mandeville Street. Topic: NZ Myosotis (forget-me-not) species.
AGM: Saturday 8 June from 10 am. Speaker: AGM followed by a speaker. TBA. Topic: TBA.
ABOUT CANTERBURY BOTANICAL SOCIETY MEETINGS & FIELD TRIPS
The Society holds monthly evening meetings, usually on the first Monday of each month. Meetings start at 7.30 pm. We organise a speaker and follow the meeting with an informal supper and chat.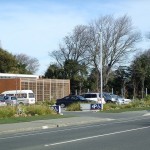 Evening meetings are held in a community meeting room at the Upper Riccarton Library, 71 Main South Road, Upper Riccarton. The meeting room is just through the main library doors (on your left). Entry to the library closes at 8 pm but you can exit after this time by pushing the green button next to the door. Parking is available in front of the library. http://christchurchcitylibraries.com/UpperRiccarton/
Information for speakers
The meeting room has a data projector (and cable) but you need to bring your own laptop or advise the meeting organiser that they need to bring one. Please check that your laptop is able to connect to an external projector.
Field trips are usually held on the Saturday following the evening meeting. Trips in the winter months are to places closer to Christchurch and in the warmer months we take advantage of the longer daylight hours to venture further afield.
In January we have a week-long summer camp and visit places which are too far to access from Christchurch for a day trip. We book affordable accommodation and make daily excursions from this point.
In spring we often have a long weekend camp over Show Weekend in November.
Occasionally we hold workshops on specific topics.
The AGM is held on the first Saturday after Queen's Birthday weekend. After the AGM we have a speaker, followed by a shared finger food lunch.