NEXT MEETING:
Saturday 10 June 10:30 am. St Ninians Presbyterian Church, 5 Puriri Street, Riccarton. Trevor Thompson (QEII Trust Rep for Wairarapa). Topic: Insights from a 25 year mission to increase mistletoe populations in the Wairarapa. Twenty-five years ago Trevor decided to do something about the decline he was observing in the green, dwarf and beech mistletoes throughout the Wairarapa. He protected plants on trees, trapped possums and rats, seeded other trees with seed and propagated trees with mistletoe. Here in Canterbury there is interest to do the same. Come along and learn from Trevor's experience and be encouraged to start.

NEXT FIELD TRIP:
Saturday 8 July: TBA. TBA.
Meeting time and place: TBA.
Suitability: TBA.
Cost: Petrol reimbursement (10c/km paid to drivers).
What to bring: Lunch, snacks, drink, hand lenses. Stout footwear, clothes for cold and warm weather.
Trip leader: TBA. Email ggillerma1@actrix.gen.nz.
UPCOMING EVENTS:
Monday 3 July. Speaker: Lea de Nascimento (Researcher at Landcare Research). Topic: Flora of the Canary Islands and her research.
Monday 7 August. Speaker: Dr Pieter Pelser (Lecturer in Plant Systematics, University of Canterbury). Topic: Untangling the genetics of the Senecio glaucophyllus group.
Monday 4 September. Speaker: Dr Sarah Richardson (Researcher/Capability leader, Ecosystems and Global Change, Landcare Research). Topic: An aspect of NZ forest ecology, a topic wide enough to cover her many research interests.
Monday 2 October. Speaker: Jason Butt (Biodiversity Officer, Waimakariri Water Zone, ECan). Topic: Jason will lead a discussion on "Contracts and volunteers: unexpected issues for the restoration of indigenous vegetation."
Monday 6 November. Speaker: Dr Deborah Wotton (Moa's Ark Research). Topic: "Why is Hebe armstrongii rare?"
Monday 4 December. Speaker: Dr Jessie Prebble (Plant Systematist, Landcare Research). Topic: Why are forget-me-nots in trouble in New Zealand and comments on harebells on Banks Peninsula.
ABOUT CANTERBURY BOTANICAL SOCIETY MEETINGS & FIELD TRIPS
The Society holds monthly evening meetings, usually on the first Monday of each month. Meetings start at 7.30 pm. We organise a speaker and follow the meeting with an informal supper and chat.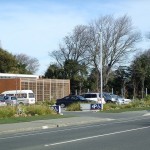 *Evening meetings are held in a community meeting room at the Upper Riccarton Library, 71 Main South Road, Upper Riccarton. The meeting room is just through the main library doors (on your left). Entry to the library closes at 8 pm but you can exit after this time by pushing the green button next to the door. Parking is available in front of the library. http://christchurchcitylibraries.com/UpperRiccarton/
Information for speakers
The meeting room has a data projector (and cable) but you need to bring your own laptop or advise the meeting organiser that they need to bring one.
Field trips are usually held on the Saturday following the evening meeting. Trips in the winter months are to places closer to Christchurch and in the warmer months we take advantage of the longer daylight hours to venture further afield.
In January we have a week-long summer camp and visit places which are too far to access from Christchurch for a day trip. We book affordable accommodation and make daily excursions from this point.
In spring we often have a long weekend camp over Show Weekend in November.
Occasionally we hold workshops on specific topics.
The AGM is held on the first Saturday after Queen's Birthday weekend. After the AGM we have a speaker, followed by a shared finger food lunch.