NEXT MEETING:
Monday 2 September at 7:30 pm at Upper Riccarton Library community meeting room, 71 Main South Road, Riccarton. Speaker: Melanie Lapoint (Ecologist, Wildlands). Topic: Melanie will take us on a short trip to discover the spring flowers that grow in the understorey of Canada's sugar maple forests. Imagine after 4 months of being buried in snow, nature finally emerges from hibernation. Spring flowers have showy colorful flowers that last only for a short period of time and they always attract the attention of botanists… who are just emerging from a prolonged hibernation as well! Although these herbaceous plants come from different plant families, they share similar adaptations, life-cycle, and reproduction strategies. They also face similar threats. We will discover, among others, the risky reproduction strategy of Wild ginger (Asarum canadense), the complex life-cycle of Triliums (Trillium spp.) and Jack-in-the-pulpit (Arisaema triphyllum), and the roles played by ants in seed dispersion. I will also explain some of the reasons behind the general population decline of spring flowering herbs in sugar maple forests.

NEXT FIELD TRIPS:
Saturday 8 September. TBA
Where and when to meet: TBA.
Suitability: Suitable for everyone.
Cost: Suggested petrol reimbursement to drivers $ (10c/km paid to drivers).
What to bring: Lunch, drink, warm clothes, hat, raincoat, sturdy footwear, petrol money.
Trip leader/s: TBA.

UPCOMING EVENTS:
MEETING: Monday 7 October at 7:30 pm. Speaker: TBA. Topic:TBA.
FIELD TRIP: Saturday 12 October. Field trip to Long Bay Reserve, Southern Bays, Banks Peninsula. A rarely visited, century old DOC reserve. Trip leader: Alice Shanks.
MEETING: Monday 4 November at 7:30 pm. Speaker: Paul Maurice. Topic: Paul will speak about the flora of the Silk Road, in the Tien Shan mountains in Central Asia.
FIELD TRIP: Saturday 9 November. Motukānuka Scientific Reserve, Eyrewell. Botanising a newly gazetted kānuka reserve in North Canterbury. Trip leader: Melissa Hutchison.
MEETING: Monday 2 December at 7:30 pm. Speaker: TBA. Topic:TBA.
FIELD TRIP: Saturday 7 December. Field trip to the Cockayne Plot, Porters Pass. Trip leader: Alice Shanks.

ABOUT CANTERBURY BOTANICAL SOCIETY MEETINGS & FIELD TRIPS
The Society holds monthly evening meetings, usually on the first Monday of each month. Meetings start at 7.30 pm. We organise a speaker and follow the meeting with an informal supper and chat.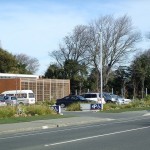 Evening meetings are held in a community meeting room at the Upper Riccarton Library, 71 Main South Road, Upper Riccarton. The meeting room is just through the main library doors (on your left). Entry to the library closes at 8 pm but you can exit after this time by pushing the green button next to the door. Parking is available in front of the library. http://christchurchcitylibraries.com/UpperRiccarton/
Information for speakers
The meeting room has a data projector (and cable) but you need to bring your own laptop or advise the meeting organiser that they need to bring one. Please check that your laptop is able to connect to an external projector.
Field trips are usually held on the Saturday following the evening meeting. Trips in the winter months are to places closer to Christchurch and in the warmer months we take advantage of the longer daylight hours to venture further afield.
In January we have a week-long summer camp and visit places which are too far to access from Christchurch for a day trip. We book affordable accommodation and make daily excursions from this point.
In spring we often have a long weekend camp over Show Weekend in November.
Occasionally we hold workshops on specific topics.
The AGM is held on the first Saturday after Queen's Birthday weekend. After the AGM we have a speaker, followed by a shared finger food lunch.