NEXT MEETING:
Monday 2 July 2018 at 7:30 pm. Upper Riccarton Library meeting room, 71 Main South Road, Riccarton. Speaker: Zane Lezare (MSc student, Canterbury University). Topic: Zane will speak about his Masters thesis, which explored how plant trait diversity influences the success of invasions, and whether community trait composition can predict changes in abundance.

NEXT FIELD TRIP:
Friday 6 July. 1-3 pm. Note change from usual date. Allan Herbarium, Landcare Research, Lincoln. Get to know the extinct and rare plants of Canterbury.
Where to meet: Please let Alice know if you would like to have lunch beforehand so she can book at table at Hillyer's Cottage Cafe, 12 Gerald Street at 11.45 am.
Suitability: Easy, indoors.
Cost: Petrol reimbursement to drivers (10c/km paid to drivers).
What to bring: Lunch, drink, warm clothes, hat, raincoat, sturdy footwear, petrol money. Be prepared for the usual range of weather at this time of year.
Trip leader/s: Alice Shanks. Phone (03) 337-1256, or text 027 366 1246.
UPCOMING EVENTS:
MEETING. Monday 6 August 7:30 pm. Upper Riccarton Library. Speaker: Jeremy Rolfe (Department of Conservation). Topic: Latest 2018 threat rankings for New Zealand plant species. Jeremy will speak about the latest changes in the threat rankings of NZ plant species and explain the rationale behind them. The Department of Conservation recently published a new assessment of the conservation status of indigenous vascular plants that had been undertaken by the NZ Threat Classification expert panel for vascular plants. This update includes an additional 205 taxa and unnamed entities that have not been previously assessed, and significant changes to the assessment of several taxa since 2012. All but one indigenous Myrtaceae species, including kanuka and manuka, are ranked as Threatened given the imminent threat of myrtle rust. The most abundant and widespread form of manuka was assessed as At Risk. For the first time matagouri is listed as an At Risk-Declining species. Hear about these changes and other recent developments in the New Zealand Threat Classification System.
Reference to Threat publication: https://www.doc.govt.nz/Documents/science-and-technical/nztcs22entire.pdf
It is important that we understand the rationale behind the listing of plants that are otherwise common in Canterbury, such as kanuka, manuka, matagouri, pygmy mistletoes, Coprosma virescens, Linum monogynum common scabweed Raoulia australis, and Juncus distegus. A whole suite of eastern South Island species have moved to a higher threat rank – Carmichaelia nana, C. corrugata, and Canterbury pink broom C. torulosa, the montane basin sedge Carex albula, woolly woodrush Luzula ulophylla, montane basin wheatgrass Anthosachne falcis, red gravelly river margin sedge Carex buchananii, dry grassland bindweed Convolvulus verecundus, and button daisy Leptinella serrulata. Wetland rushes Juncus caespiticus and J. distegus are now listed as At Risk. Most of these deteriorating rankings can be attributed to habitat loss. 

FIELD TRIP. Saturday 11 August. TBA.
ABOUT CANTERBURY BOTANICAL SOCIETY MEETINGS & FIELD TRIPS
The Society holds monthly evening meetings, usually on the first Monday of each month. Meetings start at 7.30 pm. We organise a speaker and follow the meeting with an informal supper and chat.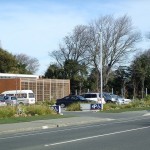 Evening meetings are held in a community meeting room at the Upper Riccarton Library, 71 Main South Road, Upper Riccarton. The meeting room is just through the main library doors (on your left). Entry to the library closes at 8 pm but you can exit after this time by pushing the green button next to the door. Parking is available in front of the library. http://christchurchcitylibraries.com/UpperRiccarton/
Information for speakers
The meeting room has a data projector (and cable) but you need to bring your own laptop or advise the meeting organiser that they need to bring one. Please check that your laptop is able to connect to an external projector.
Field trips are usually held on the Saturday following the evening meeting. Trips in the winter months are to places closer to Christchurch and in the warmer months we take advantage of the longer daylight hours to venture further afield.
In January we have a week-long summer camp and visit places which are too far to access from Christchurch for a day trip. We book affordable accommodation and make daily excursions from this point.
In spring we often have a long weekend camp over Show Weekend in November.
Occasionally we hold workshops on specific topics.
The AGM is held on the first Saturday after Queen's Birthday weekend. After the AGM we have a speaker, followed by a shared finger food lunch.