NEXT MEETING:
Monday 5 February 7:30 pm. Upper Riccarton Library meeting room. 71 Main South Road, Upper Riccarton. Speaker: TBA. Topic: "TBA"

NEXT FIELD TRIP:
2018 Summer Camp. 10-18 February 2018. Gowan Valley, Lake Rotoroa, Nelson Lakes National Park. 25 minutes north of Murchison.
Accommodation: We will stay at the Nelson Rowing Club Camp. The cost is from $15/night if we average at least 14 people per night. There is a full kitchen with all the basics (including cutlery and crockery). The accommodation includes 3 bunk rooms (4-6 people at least) and 3 rooms with a double bed and a single. Bring your own bedding. There is tenting space available for 2-3 tents. Accommodation is also available in Murchison (camping to motels), Owen River Tavern and Motel, or private holiday homes at Lake Rotoroa.
Trips: Buller and Gowan Rivers, Lake Rotoroa foreshore and hills, up the Porika Track to the tops and other areas of interest. This area has a diverse flora due to the variety of habitats, altitudes, climates, lakes, rivers etc.
Cost: Accommodation at Nelson Rowing Club Camp from $15/night per person. Petrol reimbursement to drivers (10c/km paid to drivers).
What to bring: Food, bedding, warm clothing, sturdy footwear, hand lenses, plant ID book.
Trip leader: Paula Greer. For booking and further information please contact Paula Greer by phone 021 2336794 or (03) 379-3965 after 6.30 pm, or email paulagreer@rocketmail.com.
UPCOMING EVENTS:
Monday 5 February. Speaker: TBA. Topic: TBA.
Monday 5 March. Speaker: TBA. Topic: TBA.
ABOUT CANTERBURY BOTANICAL SOCIETY MEETINGS & FIELD TRIPS
The Society holds monthly evening meetings, usually on the first Monday of each month. Meetings start at 7.30 pm. We organise a speaker and follow the meeting with an informal supper and chat.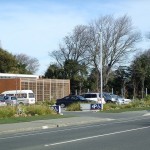 Evening meetings are held in a community meeting room at the Upper Riccarton Library, 71 Main South Road, Upper Riccarton. The meeting room is just through the main library doors (on your left). Entry to the library closes at 8 pm but you can exit after this time by pushing the green button next to the door. Parking is available in front of the library. http://christchurchcitylibraries.com/UpperRiccarton/
Information for speakers
The meeting room has a data projector (and cable) but you need to bring your own laptop or advise the meeting organiser that they need to bring one.
Field trips are usually held on the Saturday following the evening meeting. Trips in the winter months are to places closer to Christchurch and in the warmer months we take advantage of the longer daylight hours to venture further afield.
In January we have a week-long summer camp and visit places which are too far to access from Christchurch for a day trip. We book affordable accommodation and make daily excursions from this point.
In spring we often have a long weekend camp over Show Weekend in November.
Occasionally we hold workshops on specific topics.
The AGM is held on the first Saturday after Queen's Birthday weekend. After the AGM we have a speaker, followed by a shared finger food lunch.