NEXT MEETING:
Monday 16 April 7:30 pm. Upper Riccarton Library meeting room. 71 Main South Road, Upper Riccarton. Speaker: Dr Peter Heenan (Wildland Consultants). Topic: "Taxonomic revision of New Zealand Cardamine species and other new plant species". Peter Heenan will talk about his revision of New Zealand Cardamine species, which has recently been published and is the culmination of nearly three decades of research.

NEXT FIELD TRIP:
Saturday 10 March. Lake Heron tarn turf plants and flowering grasslands. We hope to see the mass Gentianella display in the tarns at the eastern end of Lake Heron. It is a glorious sight if the season, flowering, and our visit all co-incides. If not, we will enjoy the tiny turf plants. From there we will then attempt to march off to look at the tall tussock on Rikki Spur without getting distracted by the short tussockland plants on the way.
Where to meet: Meet at the Yaldhurst Pub at 8 am or Hororata café at 8:45 am to carpool. Ashburton Forest and Bird members will meet us at Mt Somers shop at 9:30 am. It will be a long day. Plan to get home at 6 or 7 pm.
Cost: About $15 per passenger. Petrol reimbursement to drivers (10c/km paid to drivers).
Suitability: About 6 hours slow botanising along rough walking tracks.
Cost: $15 per passenger. Petrol reimbursement to drivers (10c/km paid to drivers).
What to bring: Lunch, drink, warm clothes, hat, gumboots or footwear that can get wet, hand lens, petrol money.
Trip leader/s: Alice Shanks. Please let Alice know if you plan to come so she can alert you if the trip is cancelled – phone 337-1256, 027 3661246 or alice@caverock.net.nz.
UPCOMING EVENTS:
MEETING. Monday 7 May. Speaker: TBA. Topic: TBA.
FIELD TRIP. Saturday 21 April. TBA.
MEETING. Monday 11 June. Speaker: TBA. Topic: TBA.
ABOUT CANTERBURY BOTANICAL SOCIETY MEETINGS & FIELD TRIPS
The Society holds monthly evening meetings, usually on the first Monday of each month. Meetings start at 7.30 pm. We organise a speaker and follow the meeting with an informal supper and chat.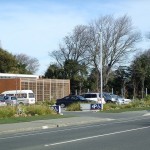 Evening meetings are held in a community meeting room at the Upper Riccarton Library, 71 Main South Road, Upper Riccarton. The meeting room is just through the main library doors (on your left). Entry to the library closes at 8 pm but you can exit after this time by pushing the green button next to the door. Parking is available in front of the library. http://christchurchcitylibraries.com/UpperRiccarton/
Information for speakers
The meeting room has a data projector (and cable) but you need to bring your own laptop or advise the meeting organiser that they need to bring one.
Field trips are usually held on the Saturday following the evening meeting. Trips in the winter months are to places closer to Christchurch and in the warmer months we take advantage of the longer daylight hours to venture further afield.
In January we have a week-long summer camp and visit places which are too far to access from Christchurch for a day trip. We book affordable accommodation and make daily excursions from this point.
In spring we often have a long weekend camp over Show Weekend in November.
Occasionally we hold workshops on specific topics.
The AGM is held on the first Saturday after Queen's Birthday weekend. After the AGM we have a speaker, followed by a shared finger food lunch.