NEXT MEETING:
Monday 4 February at 7:30 pm at Upper Riccarton Library meeting room, 71 Main South Road, Riccarton. Speaker: David Glenny (Manaaki Whenua/Landcare Research, Lincoln). Topic: The willow flora of New Zealand.
NEXT FIELD TRIP:
Saturday 16 February. Ataahua Government Purpose (Wildlife Management) Reserve, Te Waihora/Lake Ellesmere. 483.80 hectares on the eastern shore of Waihora lake Ellesmere was puchased in 2008 by DOC and is now available to visit. This former grazed land contains marsh ribbonwood shrublands, freshwater spring-fed wetlands, saline mudflats. The DOC Mahaanui office would like a list of our observations. It is also the day of the lake bird survey. Expect to see people in surprising places.
Where to meet: Meet at 9 am at the Halswell Bowling Green carpark, 301 Halswell Road for carpooling.
Suitability: Rough, uneven paddocks with long grass. Wet and muddy around the lake edge.
Cost: approx. $5 petrol reimbursement to drivers (10c/km paid to drivers).
What to bring: Lunch, drink, warm clothes, hat, raincoat, petrol money. Wear gumboots or shoes that you don't mind getting wet. Bring binoculars to spot birds.
Trip leader/s: Alice Shanks. Please contact Alice if you intend to come along so she can let you know if the trip is cancelled – Email alice@caverock.net.nz, or phone 027-366-1246.

UPCOMING EVENTS:
SUMMER CAMP: Saturday 12 to Saturday 19 January 2019. Murchison/NW Nelson area.
Summer Camp for 2019 will be based at Riverside Camp Ground in Murchison. During the camp we will be visiting a variety of valleys, rivers and mountain tops that surround the Murchison Plains. More detailed trip schedule to be provided later. Accommodation: The camp has a range of accommodation from motel units to tent sites. There are four basic cabins initially booked two with a double bed and bunks, two with single beds/bunks ($30 per person/night). Trip Leaders: Miles and Gillian Giller. If you would like to come please contact Miles and Gillian on (03) 313-5315 or broadleaf@actrix.co.nz. If you would prefer to book your own accommodation, please do so but please let Gillian know so we can make arrangements for meeting up.
MEETING: Monday 4 March. Speaker: Dr Pieter Pelser (Lecturer, University of Canterbury). Topic: New research on herbaceous Brachyglottis leads to one species.

MEETING: Monday 1 April. Speaker: TBA. Topic: TBA.
MEETING: Monday 6 May. Speaker: TBA. Topic: TBA.
AGM: Monday 3 June. Speaker: TBA. Topic: TBA.
ABOUT CANTERBURY BOTANICAL SOCIETY MEETINGS & FIELD TRIPS
The Society holds monthly evening meetings, usually on the first Monday of each month. Meetings start at 7.30 pm. We organise a speaker and follow the meeting with an informal supper and chat.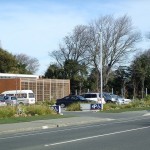 Evening meetings are held in a community meeting room at the Upper Riccarton Library, 71 Main South Road, Upper Riccarton. The meeting room is just through the main library doors (on your left). Entry to the library closes at 8 pm but you can exit after this time by pushing the green button next to the door. Parking is available in front of the library. http://christchurchcitylibraries.com/UpperRiccarton/
Information for speakers
The meeting room has a data projector (and cable) but you need to bring your own laptop or advise the meeting organiser that they need to bring one. Please check that your laptop is able to connect to an external projector.
Field trips are usually held on the Saturday following the evening meeting. Trips in the winter months are to places closer to Christchurch and in the warmer months we take advantage of the longer daylight hours to venture further afield.
In January we have a week-long summer camp and visit places which are too far to access from Christchurch for a day trip. We book affordable accommodation and make daily excursions from this point.
In spring we often have a long weekend camp over Show Weekend in November.
Occasionally we hold workshops on specific topics.
The AGM is held on the first Saturday after Queen's Birthday weekend. After the AGM we have a speaker, followed by a shared finger food lunch.