NEXT MEETING:
Monday 6 November 7:30 pm. Upper Riccarton Library meeting room. 71 Main South Road, Upper Riccarton. Speaker: Debra Wotton (Moa's Ark Research). Topic: "Why is Hebe armstrongii rare?"

NEXT FIELD TRIP:
Saturday 11 November. Working bee at Lance McCaskill Scientific Reserve, Kura Tawhiti Conservation Area, Castle Hill.
This is a rare opportunity to visit this unique, public-excluded reserve (entry by DOC permit only). We will assist DOC Ranger Danny Kimber to weed around rare plants and carry out other delicate jobs in the Lance McCaskill Scientific Reserve. We will also visit the nearby Enys Scientific Reserve afterwards if we have time.
Meeting time and place: Meet at the Yaldhurst Hotel carpark at 8.30 am to carpool, 50 metres after the Main West Coast Road-Pound Road roundabout. Alternatively you can meet the group at the Springfield toilets at 9.15 am.
Suitability: Come prepared to walk a kilometre through flat paddocks to both reserves.
Cost: Suggested $20 petrol reimbursement to drivers (10c/km paid to drivers).
What to bring: Lunch, thermos/drink, stout footwear, raincoat, sunhat, gardening gloves and trowel. Please ensure that boots, packs and any equipment you bring into the reserves are clean and completely free of soil and plant material (we must not introduce any potential weed propagules or other biosecurity threats to the reserves).
Trip leader: Melissa Hutchison. Please contact Melissa at melissa@tenax.co.nz or on 021 0415797 if you plan to come along. Melissa will contact you if the trip is cancelled.
UPCOMING EVENTS:
Monday 4 December. Speaker: Dr Jessie Prebble (Plant Systematist, Landcare Research). Topic: Why forget-me-nots (Myosotis) are in trouble in New Zealand and comments on harebells (Wahlenbergia) on Banks Peninsula.
ABOUT CANTERBURY BOTANICAL SOCIETY MEETINGS & FIELD TRIPS
The Society holds monthly evening meetings, usually on the first Monday of each month. Meetings start at 7.30 pm. We organise a speaker and follow the meeting with an informal supper and chat.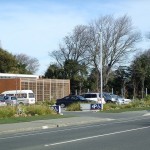 Evening meetings are held in a community meeting room at the Upper Riccarton Library, 71 Main South Road, Upper Riccarton. The meeting room is just through the main library doors (on your left). Entry to the library closes at 8 pm but you can exit after this time by pushing the green button next to the door. Parking is available in front of the library. http://christchurchcitylibraries.com/UpperRiccarton/
Information for speakers
The meeting room has a data projector (and cable) but you need to bring your own laptop or advise the meeting organiser that they need to bring one.
Field trips are usually held on the Saturday following the evening meeting. Trips in the winter months are to places closer to Christchurch and in the warmer months we take advantage of the longer daylight hours to venture further afield.
In January we have a week-long summer camp and visit places which are too far to access from Christchurch for a day trip. We book affordable accommodation and make daily excursions from this point.
In spring we often have a long weekend camp over Show Weekend in November.
Occasionally we hold workshops on specific topics.
The AGM is held on the first Saturday after Queen's Birthday weekend. After the AGM we have a speaker, followed by a shared finger food lunch.