NEXT MEETING:
Monday 2 December at 7:30 pm at Upper Riccarton Library community meeting room, 71 Main South Road, Riccarton. Speaker: Dr Peter Heenan (Wildland Consultants Ltd). Topic: Conservation and identification of the limestone flora of eastern South Island. Peter will provide an overview of the taxonomic status and conservation issues relating to the special plants of the eastern South Island limestone. The talk will also be an "informal" book launch for the new 230 page book titled "Conserving the plants of eastern South Island limestone" by Peter and Geoff Rogers.

NEXT FIELD TRIPS:
Saturday 9 November. Motukānuka Scientific Reserve (DOC), Eyrewell. We will visit this newly gazetted Scientific Reserve with staff from the Department of Conservation (Mahaanui office). Kānuka forest was previously widespread across the Canterbury Plains but there are now very few areas left so this is a rare opportunity to visit an 11 hectare remnant of this special lowland dryland vegetation. We will compile a plant and lichen species list for the reserve and hopefully discover a few botanical gems.
Useful reference: Colin Meurk, Peter Bellingham and Bryony Macmillan (1995) The last kanuka landscape on the Canterbury Plains?  Canterbury Botanical Society Journal 29: 11-24. http://www.nzflora.info/publications.html
Where and when to meet: Meet at 9:30 am to carpool at the Belfast Tavern (The Peg Tavern), 899 Main North Road, Belfast.
Suitability: Moderate. Untracked bush and farmland.
Cost: Suggested petrol reimbursement to drivers $10 (10c/km paid to drivers).
What to bring: Lunch, drink, warm clothes, hat, raincoat, sturdy footwear (boots), petrol money.
Trip leader/s: Melissa Hutchison. Please contact Melissa if you intend to come along so she can let you know if the trip is cancelled: Email melissa@tenax.co.nz, text or phone 021 0415797.

UPCOMING EVENTS:
FIELD TRIP: Saturday 7 December. TBA. Trip leader: TBA.
MEETING: Monday 3 February at 7:30 pm. Speaker: TBA. Topic: TBA.
FIELD TRIP: Saturday 8 December. TBA. Trip leader: TBA.

ABOUT CANTERBURY BOTANICAL SOCIETY MEETINGS & FIELD TRIPS
The Society holds monthly evening meetings, usually on the first Monday of each month. Meetings start at 7.30 pm. We organise a speaker and follow the meeting with an informal supper and chat.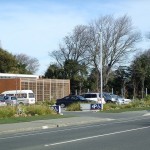 Evening meetings are held in a community meeting room at the Upper Riccarton Library, 71 Main South Road, Upper Riccarton. The meeting room is just through the main library doors (on your left). Entry to the library closes at 8 pm but you can exit after this time by pushing the green button next to the door. Parking is available in front of the library. http://christchurchcitylibraries.com/UpperRiccarton/
Information for speakers
The meeting room has a data projector (and cable) but you need to bring your own laptop or advise the meeting organiser that they need to bring one. Please check that your laptop is able to connect to an external projector.
Field trips are usually held on the Saturday following the evening meeting. Trips in the winter months are to places closer to Christchurch and in the warmer months we take advantage of the longer daylight hours to venture further afield.
In January we have a week-long summer camp and visit places which are too far to access from Christchurch for a day trip. We book affordable accommodation and make daily excursions from this point.
In spring we often have a long weekend camp over Show Weekend in November.
Occasionally we hold workshops on specific topics.
The AGM is held on the first Saturday after Queen's Birthday weekend. After the AGM we have a speaker, followed by a shared finger food lunch.