NEXT MEETING:
Monday 3 April 7:30 pm. Upper Riccarton Library community meeting room, 71 Main South Road. Speaker: Jane Gosden (PhD student). Topic: Flora of Macquarie Island (Australia). Jane has been carrying out research for her PhD on Macquarie Island and will share some of her fantastic photos and observations with us.

NEXT FIELD TRIP:
Saturday 8 April: Rockwood Range forest and gorge vegetation. BOTSOC will look at the vegetation in stream gorges on Rockwood Station and the DOC Rockwood Conservation Area. We will also botanise the Rockwood homestead lawn. We will also help them out with weed control so bring secateurs, saws and herbicide gel.
Meeting time and place: Meet at 8.30 am in the Yaldhurst Hotel carpark 50m after the Main West Coast Road-Pound Road roundabout to carpool. Or you can meet the group at Horora cafe at 9.30 am.
Suitability: Moderate fitness required. Wear boots. We will be walking up a rocky streambed and scrambling up steep slopes.
Cost: Petrol reimbursement $10 (10c/km paid to drivers) and bring $10 cash for entry to Rockwood Station.
What to bring: Lunch, snacks, drink. Stout footwear, clothes for cold and warm weather. Gumboots would be a good idea. Antihistamines advised in case of wasp stings.
Trip leader: Alice Shanks. Please contact Alice Shanks if you intend to come so she can let you know if the trip is cancelled. Phone 337-1256, 027 3661246 or alice@caverock.net.nz.
UPCOMING EVENTS:
Monday 1 May – Meeting: Speaker: Dr Peter Bellingham (Ecologist, Landcare Research). Topic: Disentangling effects of deer and possums from those of
natural disturbance in NZ's forests.
Saturday 6 May – Field trip: Mt Grey (DOC reserve) and QEII covenants, North Canterbury. Canterbury kamahi and fungal foray.
Saturday 10 June – AGM: Speaker: Trevor Thompson (QEII Trust rep). Topic: Wairarapa mistletoe project.
ABOUT CANTERBURY BOTANICAL SOCIETY MEETINGS & FIELD TRIPS
The Society holds monthly evening meetings, usually on the first Monday of each month. Meetings start at 7.30 pm. We organise a speaker and follow the meeting with an informal supper and chat.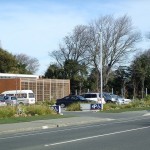 *Evening meetings are held in a community meeting room at the Upper Riccarton Library, 71 Main South Road, Upper Riccarton. The meeting room is just through the main library doors (on your left). Entry to the library closes at 8 pm but you can exit after this time by pushing the green button next to the door. Parking is available in front of the library. http://christchurchcitylibraries.com/UpperRiccarton/
Information for speakers
The meeting room has a data projector (and cable) but you need to bring your own laptop or advise the meeting organiser that they need to bring one.
Field trips are usually held on the Saturday following the evening meeting. Trips in the winter months are to places closer to Christchurch and in the warmer months we take advantage of the longer daylight hours to venture further afield.
In January we have a week-long summer camp and visit places which are too far to access from Christchurch for a day trip. We book affordable accommodation and make daily excursions from this point.
In spring we often have a long weekend camp over Show Weekend in November.
Occasionally we hold workshops on specific topics.
The AGM is held on the first Saturday after Queen's Birthday weekend. After the AGM we have a speaker, followed by a shared finger food lunch.