NEXT MEETING:
Canterbury Botanical Society AGM. 9 June 2018 at 10:30 am. St Ninians Church Hall, Puriri Street, Riccarton. The AGM will be followed by the speaker and then a shared lunch – a small plate, either savoury or sweet, would be appreciated. Speaker: Paula Greer (former MSc student, Lincoln University). Topic: "The importance of roots in planting novel habitats." Paula says "As part of my masters I looked at root traits in plants growing on earth (irrigation) dams and compared them with roots of four native plants that previously grew extensively in the Eyrewell area. By comparing the root traits I was able to see if these native plants could be grown on the dams. Yes, some would be suitable but then found other aspects of the dams would need to be considered. Come to the AGM to see which plants they were and what other aspects need to be considered when planting a novel habitat such as an earth dam."

NEXT FIELD TRIP:
Saturday 7 July. TBA. TBA.
Where to meet: TBA.
Suitability: TBA.
Cost: Petrol reimbursement to drivers (10c/km paid to drivers).
What to bring: Lunch, drink, warm clothes, hat, raincoat, sturdy footwear, petrol money. Be prepared for the usual range of weather at this time of year.
Trip leader/s: TBA.
UPCOMING EVENTS:
MEETING. Monday 2 July. Speaker: TBA. Topic: TBA.
MEETING. Monday 6 August. Speaker: TBA. Topic: TBA.
FIELD TRIP. Saturday 11 August. TBA.
ABOUT CANTERBURY BOTANICAL SOCIETY MEETINGS & FIELD TRIPS
The Society holds monthly evening meetings, usually on the first Monday of each month. Meetings start at 7.30 pm. We organise a speaker and follow the meeting with an informal supper and chat.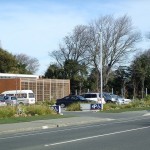 Evening meetings are held in a community meeting room at the Upper Riccarton Library, 71 Main South Road, Upper Riccarton. The meeting room is just through the main library doors (on your left). Entry to the library closes at 8 pm but you can exit after this time by pushing the green button next to the door. Parking is available in front of the library. http://christchurchcitylibraries.com/UpperRiccarton/
Information for speakers
The meeting room has a data projector (and cable) but you need to bring your own laptop or advise the meeting organiser that they need to bring one. Please check that your laptop is able to connect to an external projector.
Field trips are usually held on the Saturday following the evening meeting. Trips in the winter months are to places closer to Christchurch and in the warmer months we take advantage of the longer daylight hours to venture further afield.
In January we have a week-long summer camp and visit places which are too far to access from Christchurch for a day trip. We book affordable accommodation and make daily excursions from this point.
In spring we often have a long weekend camp over Show Weekend in November.
Occasionally we hold workshops on specific topics.
The AGM is held on the first Saturday after Queen's Birthday weekend. After the AGM we have a speaker, followed by a shared finger food lunch.